Product data sheet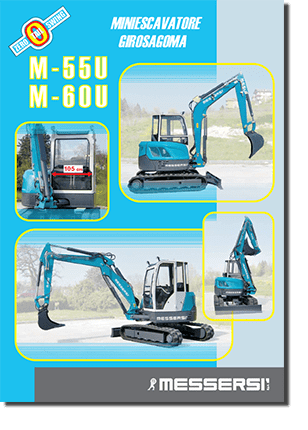 FIND OUT
THE TECHNICAL DETAILS AND
FEATURES
Information
Do you want more information? Fill in the following form and we you will be immediately contacted.
General Features
 Innovative design with the tail always remaining within the width of the tracks Zero Tail Swing).
Suspension and adjustable operator's seat increases productivity by providing optimum comfort.
Travel levers and servo-controls disabling system by armrest lifting prevents accidents due to unexpected machine movement during entry or exit from the driving place.
 Extraordinary manoeuvrability due to the use of pilot assisted controls (joy-sticks) to operate arms and buckets.
Straight travel contemporary with all arms/bucket manoeuvring.
Rollers and idler wheels with rolling bearings replacing the guide bushings for a remarkable increasing in the traction and life time performances.
The round shape design recalls the other models of the range, thus creating a continuity of style and image..
Standard equipment
Cab with heating system according to TOPS norms
Standard bucket of mm 600 (SAE capacity lt. 157)
2-speeds travel electric switch
Articulated boom
Regenerative system on dipstick arm
1550 mm. Long dipstick
Hydraulic Power Take-Off (P.T.O.)
Automatic transmission system Operator's and spare parts manuals.
Options
Buckets of mm from 300 to 1000 standard, for rocks and for Quick Hitches
Buckets for slopes standard or swivelling
Buckets for cleaning
Mechanical or hydraulic Quick Hitches
Hydraulic breaker
Hand breaker
Hydraulic drill
Grass-brush cutter
Steel tracks
1850 mm longer arm
Air conditioning